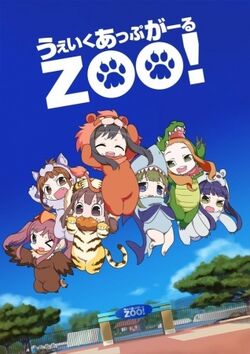 Wake Up, Girl ZOO! (うぇいくあっぷがーるZOO!, Wake Up, Girl ZOO!?) is an original net animation spin-off produced by Studio Moriken. It began streaming on Avex's YouTube channel from September 5, 2014. The main theme is "WUG Zoo Zoo" by Wake Up, Girls!.
The anime shorts take the aspiring idols of the Wake Up, Girls! anime and turns them into mini animal mascots. The setting of the shorts is Wake Up, Girl Zoo!, a small zoo at the outskirts of Sendai in northeastern Japan. Facing the imminent demise of the zoo, the head zookeeper Tange orders breeder Matsuda to scout out a new animal unit. How will they revive the zoo with the seven newly gathered animals?
01
"GO to the Zoo!"
(

動物園でGO!

"Dōbutsuen de GO!"

?

)
September 5, 2014 (trial version)
October 22, 2014 (official version)
TBA
Supervision: Yutaka Yamamoto, Touko Machida
Director: Kenshiro Morii
Screenplay: Kenshiro Morii, Eriko Matsuda, Atsushi Oka, Satoko Sekine
Character Design: Seiya Miyajima
Studio: Ordet, Studio Moriken
Cast & Characters
Edit
Theme Song
Edit
External Links
Edit
v • e Animation of Wake Up, Girls!
Wake Up, Girls! 1
Wake Up, Girls! Seven Idols • A Quiet Beginning • Girls Standing Onstage • Kindest • Scandal • Heaven or Hell • Not Yet • Wonderful Friends • Commotion • Living Here • Gateway to Success • Idol Rhapsody • No Regrets in This Moment
Wake Up, Girls! 2
Wake Up, Girls! Shadow of Youth • Wake Up, Girls! Beyond the Bottom
Wake Up, Girls! 3
We Are Wake Up, Girls! • This is Our Home • I Am My Ponytail • When It's Tasty, It's Tasty, Meow! • Dreaming the Same Dream • WUG Alone, WUG Together • Special Show - WUGBAN! New Chapter • When The Going Gets Tough, Smile • Believe You're Making Progress • WUG! Makes Me Think Of...? • Sprout New Buds! • What We Can Do! • Towards The Light
OVA / ONA
Wake Up, Girls! Recording of the Encounter ~A Brief Recording~ • Wake Up, Girl ZOO!